Preview & Introduction
Special Voluntary Tax Disclosure to Inland Revenue Programme for Bosses
In the Budget 2019 speech on Nov 2, Finance Minister Lim Guan Eng announced the Special Tax Voluntary Disclosure Programme (STVDP) to allow taxpayers to voluntarily declare any unreported income, including funds maintained offshore, for Malaysian tax purposes.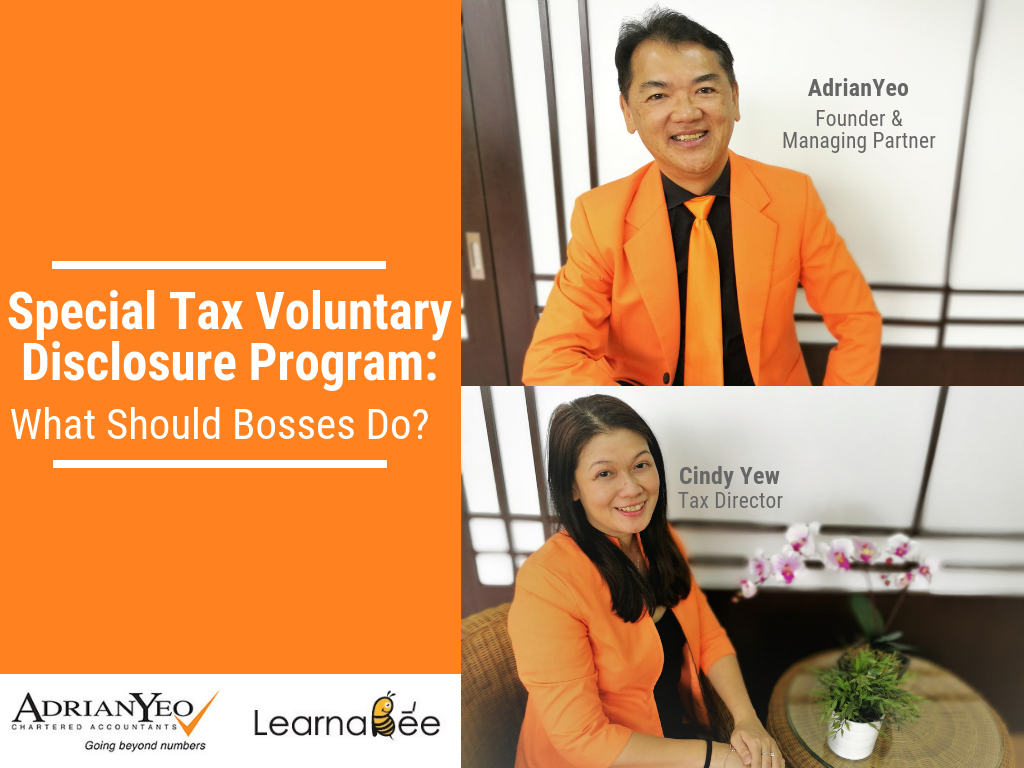 Introduction
Over the past 2 months Inland Revenue Board ["IRB"] has sent out 3.2 million emails and posted 4.7 million letters to tax payers on Special Voluntary Disclosure Program ("SVDP").
SVDP opens a small window of opportunity for taxpayers to voluntarily disclose their previous undeclared income including income in offshore accounts.
Currently the tax penalty rate is around 35% for incorrect income reported.
By special concession, the tax penalty rate under SVDP till June 2019 is substantially reduced as tabled below.
Period of Voluntary Disclosure & Rate of Tax Penalty:
Now to 31/03/2019 - 10%
01/04/2019 - 30/06/2019 - 15%
After 30/6/2019 - 80% to 300%
IRB chief executive officer Datuk Seri Sabin Samitah repeatedly assured that voluntary declaration made by taxpayers during the programme from 3 November 2018 to 30 June 2019 will be accepted by IRB in good faith. IRB will not question tax payers and will accept their declaration. He also assured the confidentiality of taxpayers' information will be protected.
Malaysia is following the footsteps of United States of America, United Kingdom, Australia, Japan, Singapore and Indonesia for voluntary disclosure programs. Come and find out more about this Tax Concession Programme, the small window is closing soon.
OBJECTIVE
This seminar seeks to help you:
Understand the recent voluntary disclosure programme
Know the objectives of the Government of Malaysia
Be aware of further actions and process by IRBM
Gain detailed insights and characteristics of this STVDP
Take note of the responsibilities of accountants and taxpayers
WHO SHOULD ATTEND
SMI Entrepreneurs
Accountants
Financial Controllers