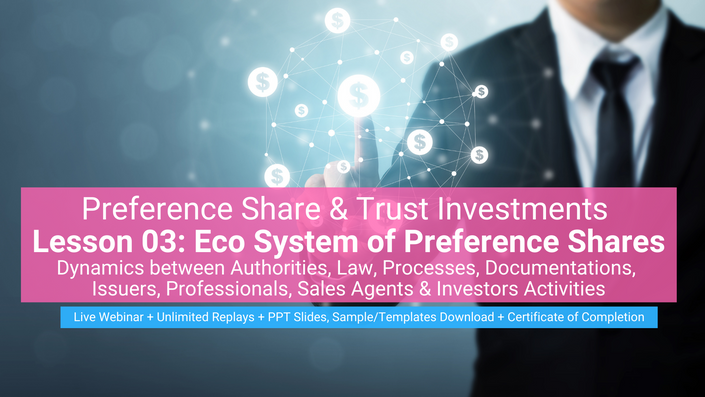 (English) Lesson 03: Eco System of Preference Share & Trust Investments
Lesson 03 of Preference Share & Trust Investments Webinar Series. Training Duration : 2 Hours 40 Minutes
Watch Promo
If you wish to get FULL WEBINAR SERIES, 👉🏻 Click here to sign up
For Credit Card Payment, click Orange Enroll Button Above this Sales Page. 👆👆👆
For FAQ, click this link 👉 https://www.learnabee.com/p/faq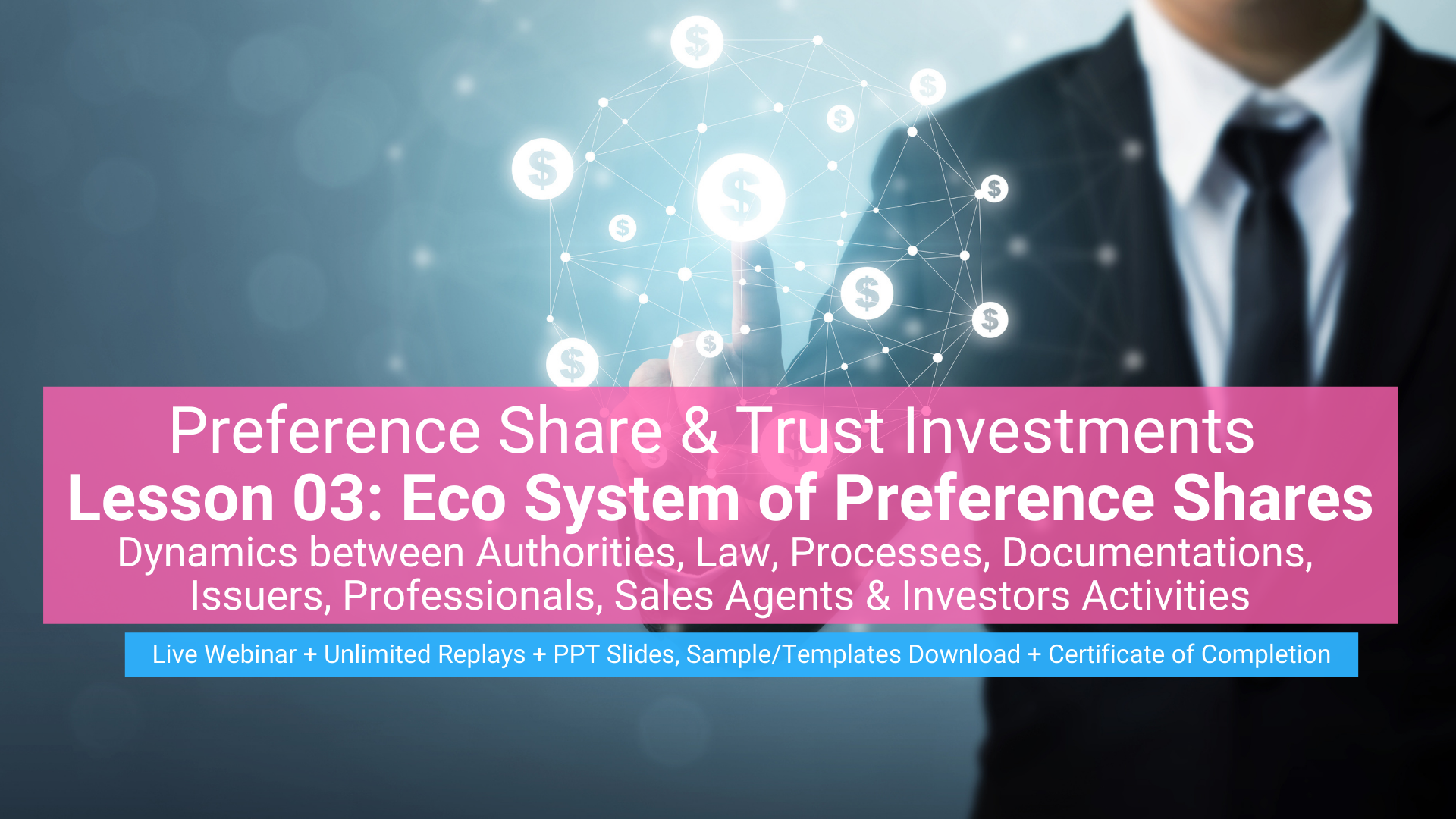 Everything you need to know about Eco System of Preference Share & Trust Investments
Payment inclusive of
Unlimited Replay
Unlimited Download of Presentation Slides & Notes
Certificate of Completion to manually claim your CPD/CPE points.
If you wish to get FULL WEBINAR SERIES,
No Jam. No Parking.
Bee Happy. Learn Online.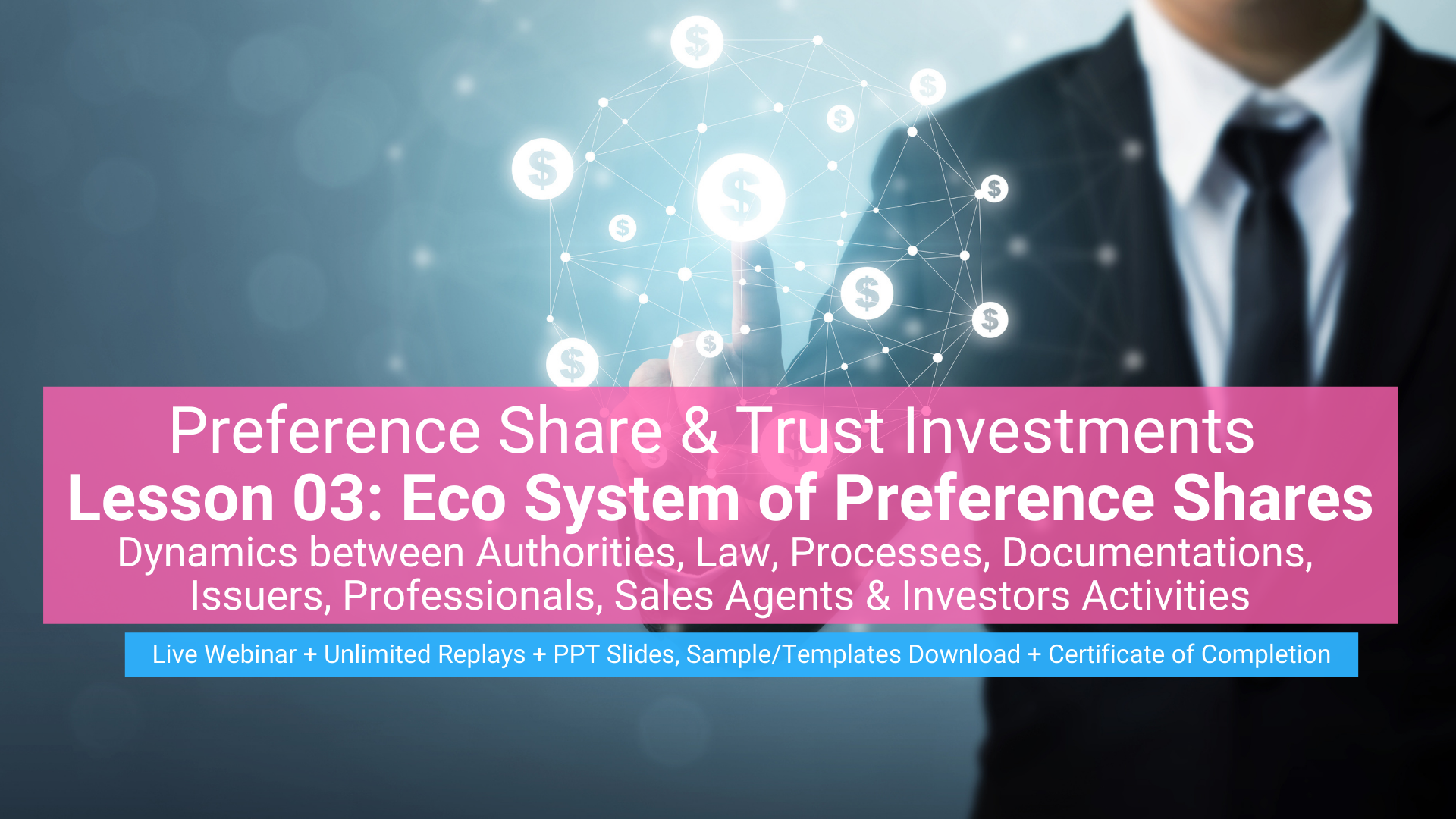 Webinar Outline - Lesson 3: Eco System of Preference Share & Trust Investments

#01 Table Of Comparison: Return on Investment vs Investment Products

Savings Account
Bonds
Fixed Deposit
ASN
Preference Share or Trust Investment
#02 Who can issue Preference Share
Public Listed Company
Public Unlisted Company
Private companies
#03 Who – Public Company
SSM
Bursa
Security Commission
Court
Professionals
Sales Agent
Retail Investors
Sophisticated Investors
#04 Who can invest in Preference Share
Retail investors
Sophisticated investors
#05 How – Procedure of issuing Preference Share
Constitution
Statement in Lieu of Prospectus (SILOP)
Prospectus
Information Memorandum
Solvency Test
Solvency Statement
#06 Dividend regime
Section 131 (1) & (2) Companies Act 2016
Solvency test
#07 Step by Step Flowchart Solvency Test & Solvency Statement
Company intend to distribute dividend
Start
Perform Solvency Test
Is the company able to pay its debt as and when they become due immediately?
Is the company able to pay its debt within 12 months after the distributions are made?
Are the directors satisfied that the company meets the solvency test?
Directors sign solvency statement
Any dividend arrears for Cumulative Preference Shareholders?
Pay dividend arrears
Distribute dividend to the Preference Shareholder
Any profit surplus, to distribute?
Distribute dividend to the Ordinary Shareholders
End
#08 What are the documents needed - Unlisted & Listed Public Company
Constitution
SILOP
Prospectus
Information Memorandum
Company Secretary
Accountants' report
Allotment
Solvency Statement
#09 Statement in lieu of prospectus (SILOP)
#10 Prospectus
#11 Comparison between Prospectus vs SILOP
Meaning
Objective
Used when
Content
#12 Sophisticated Investors
Accredited investor
High net-worth entities
High net- worth individuals
#13 Information Memorandum - Content

Forward-looking statements
Risk Factors
Notice on Personal Data Protection
Confidentiality Clause
Shariah Adviser
Corporate Directory
Definitions
Executive Summary
Benefits of subscribing RPS
Salient terms of RPS
Business Overview
Information on the Company
#14 Relevant Acts
Companies Act 2016
Capital Market and Services Act 2007
#15 HOW- Private Company
Section 43 Companies Act 2016
#16 Work around S43 Companies Act 2016
#17 Dividend regime - Private Company
Section 131(1) & (2) Companies Act 2016
Solvency test
#18 What are the documents needed – Private Company
Trust deed
Constitution
SILOP
Solvency Statement

#19 Relevant Acts
Companies Act 2016
Financial Services Act 2013
Trustee Act 1949 (Revised 1978)
Anti-Money Laundering, Anti-Terrorism Financing and Proceeds of Unlawful Activities Act 2001 (AMLA)
Trust Companies Act 1949

#20 2 Types of Preference Shares Investments
Directly to Preference Shares Issuer
Indirect through Trust Company

#21 Criteria to Sustain Preference Share Investment

High investment return
Low Redemption Rate
Continuously recruit new investors
#22 What Does This Investment Scheme Look Like to You ?


Summarize video


Answer to Quiz: #03


Discuss the Quiz answer
Your Instructor
Course Curriculum
20210715 Lesson 3: Eco System of Preference Share & Trust Investments
Available in days
days after you enroll
Training Materials
Available in days
days after you enroll
Frequently Asked Questions
Language Available ?
ENGLISH Only
Venue & Access
100% Online Learning 24/7 Anytime, Anywhere
Supported Devices:
Desktop, laptop, smart devices & smart phones (iOS and Andriod supported).
Am I Allowed to Post Questions to Trainer After Live Webinar ?
Yes
How many times can I view the video replay ?
Unlimited Replay of Training Content
Are the Video & Training Materials downloadable ?
Only PDF training materials are downloadable. MP4 Video Replays are non-downloadable
Do You Issue Certificate of Completion ?
Yes, upon completion, you can download the Certificate of Completion
Will you update the training from time to time ?
This is not a guaranteed benefit when you sign up but we will try our best., You will receive UpToDate Training Content whenever the trainer feels necessary to do a follow up webinar.
Sign Up Now ... See you "inside" the paid area soon !
We highly encourage you to pay via credit card for instant access to the content.
However, you have the option to pay via online bank in method, Click Here for Instruction to Pay Through Bank

---
Hi, My name is EvannaMiss8. I am a One Leg Kick , Happy go Lucky Organiser & Producer of Webinars & Online Training for Professionals, Directors & Management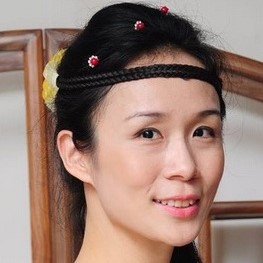 If you are still blur blur about this webinar, no worries ya ... you may contact me directly using any of the below methods
Email: [email protected]
Whatsapp: +6012 203 8046
Facebook: https://www.facebook.com/learnabeeOfficial/
Bee Happy, Learn Online ...
Important Note: If you want to download the Certificate of Completion at the end of this course, please make sure the FULL NAME you key in is 100% Accurate ya ...