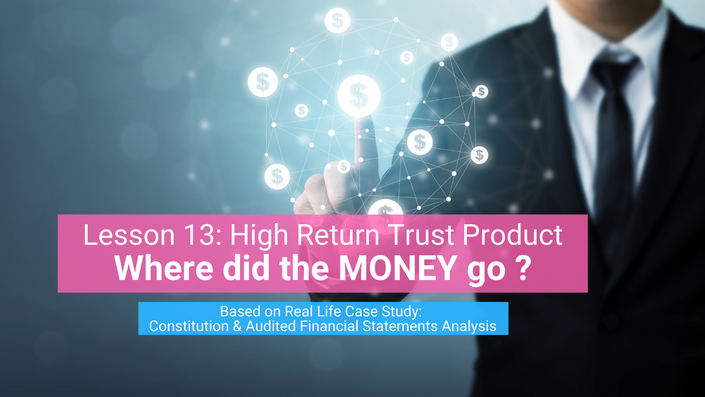 (English) Lesson 13 High Return Trust Product: Where did the MONEY go ? Based on Real Life Case Study, Constitution & Audited Financial Statements Analysis
Total Training Duration: 4 hours 11 minutes
f you wish to get FULL WEBINAR SERIES, 👉🏻 Click here to sign up

For Credit Card Payment, click Orange Enroll Button Above this Sales Page. 👆👆👆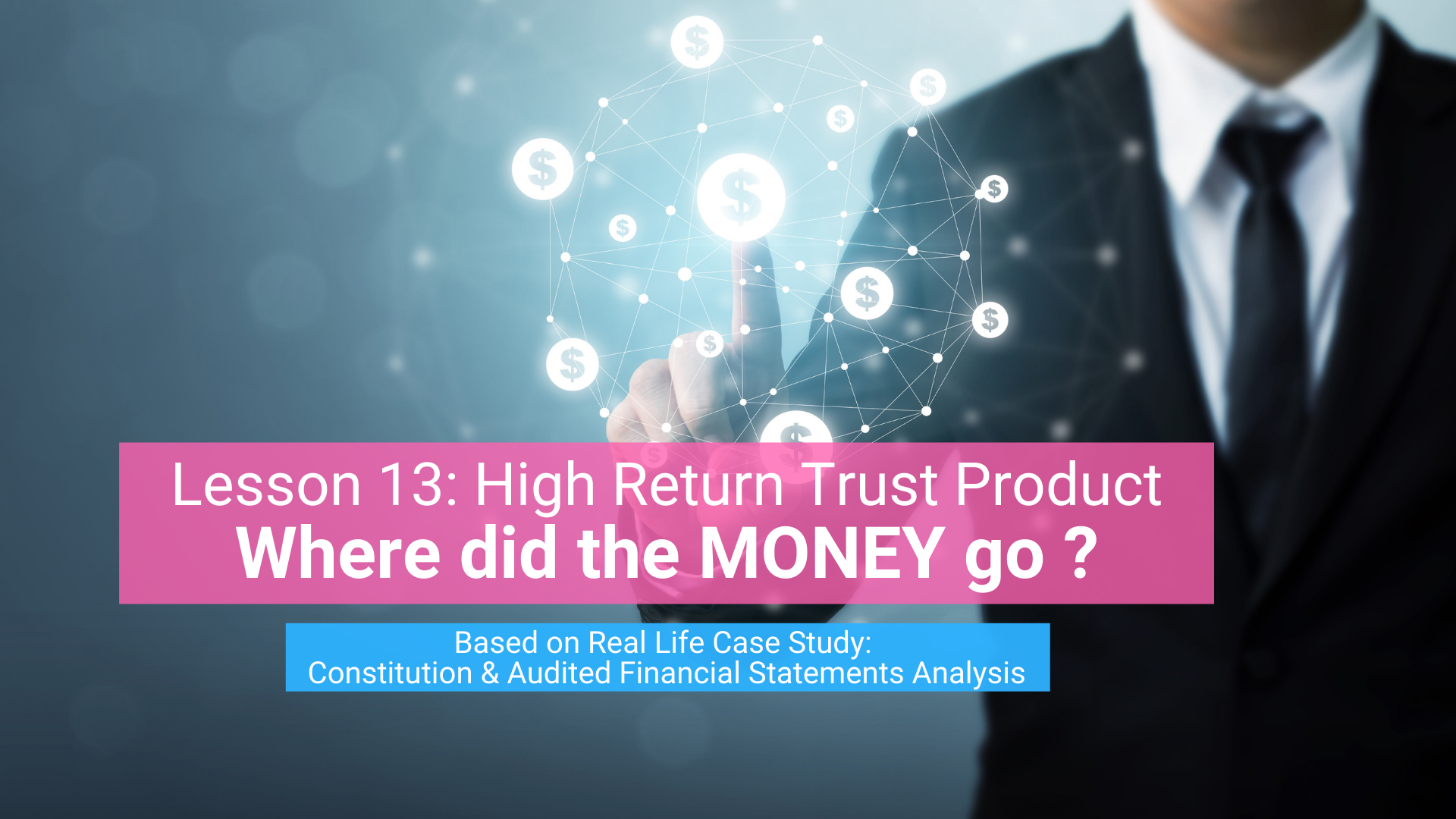 Title: High Return Trust Product Lesson 13: Where did the MONEY go ? Based on Real Life Case Study, Constitution & Audited Financial Statements Analysis

Webinar outline:
1 Doing Well On the Surface
1.1 How from the outside A Trustee appears to be doing well.
1.2 Fantastic growth.
1.3 Agents enjoying good income

2 Ballooned Trust Assets
2.1 How are they doing?
2.2 What is happening to Client's Money / Trust Capital / Trust Asset
2.3 Secrecy & Hidden
2.4 All are not what they appear to be.

3 Structure & Modus Operandi
3.1 This structure that was created is a monster that cannot be controlled.
3.2 Like a runaway train that cannot stop until there is a crash
3.3 What will happen to the Client's Money by then ?

4 The revelations
4.1 Spider web
4.2 The companies;
4.3 The relationships

5 Investment Health Check
5.1 Asset Quality
5.2 Liquidity Ratio
5.3 Debt / Equity Ratio

6 L Group: Ultra High Risk for Investors
6.1 A Trustee invested in LA that is NOT approved company or authorized investment under Trustee Act 1949
6.2 Is there Mis-Selling or Mis-Representation by Agent ?
High Credit Risks
Low Liquidity Ratio
High Debt / Equity Ratio
Started AFTER introduction of Trust Products
Fund Management Expertise ?
Creditworthiness ?

7 People involved
7.1 The questionable background of some of the people involved
7.2 Ms KV - L Group
Where is the fund management expertise ?
7.3 Ah Lan - Indirect shareholder & director of department of A Trustee
Director of RBTR since 2006 (Sued by SC for misleading investor, under creditor liquidation)
Director of SC Sdn Bhd since 2007 (Sued by Ms Dee for Debt Recovery, under creditor liquidation)
Director of C Sdn Bhd since 2015 (Sued by various parties, under creditor liquidation)
Various Directorship in Mr. S & Ms K company (Property)
7.4 Mr. S - Shareholder of L Group
Involved in various court cases relating to settlement of debt. Companies were under creditors liquidation for failing to meet their debts.
Why would Mr. S apply for liquidation as a creditor for his own company ?

8 CROUCHING DANGERS, HIDDEN RISKS on Trust Capital
Not making expected Profit on Trust Investment
Not paying real dividend to client
Creative Transactions
Clients and Sales Agents are not aware

Danger & Risk #01: Is A Trustee printing "money" out of thin air ?
Clients get regular payout disguised dividend (small % of their own money) ?
Creates False Impression that Trust Investment is profitable ?
Director & Co Sec in Breach of CA2016 ?
Creative Constitution Drafting ?
Early & Annual Redemption of Bonus Issue
RPS with 0% Dividend
Disguised Dividend (Bonus)

Danger & Risk #02: Is L Group (Fund Management Co) Cooking the Books ?
In order to pass solvency test
Director in Breach of CA2016 ?
Creative Accounting ?
Management Fees
CRPS 15% but Disguised Dividend (Interest)
Sham Transaction to create profit for LC from S&P of Property to LV
Promissory Notes
Setup P Group to Create Profit & Hide Real Losses of L Group
iRPS Series C for AL

Danger & Risk #03: Is Trust Capital endangered by Connected Parties Dipping into Client's nest egg ?
Are Trustee & Fund Management Company Connected & Related ?
Director & Auditor Negligence ?
Acquisition of LF

LF is a chess company
loss making with no business
paid RM 1 mil
wrote off RM 983k goodwill in the same year

Acquisition of LC

paid RM 5 mil
wrote off RM 4.5 mil goodwill & RM 500k directors' debt the same year

0 % or Low Interest to Related Parties
Concentrated Credit Risk
Payment is inclusive of

Unlimited Replay
Unlimited Download of Presentation Slides & Notes
Certificate of Completion to manually claim your CPD/CPE points.
If you wish to get FULL WEBINAR SERIES, 👉🏻 Click here to sign up

No Jam. No Parking.

Bee Happy. Learn Online. 🐝💐
Your Instructor
Course Curriculum
20211222 Lesson 13 High Return Trust Product: Where did the MONEY go ?
Available in days
days after you enroll
Frequently Asked Questions
Language Available ?
ENGLISH Only
Venue & Access
100% Online Learning 24/7 Anytime, Anywhere
Supported Devices:
Desktop, laptop, smart devices & smart phones (iOS and Andriod supported).
Am I Allowed to Post Questions to Trainer After Live Webinar ?
Yes
How many times can I view the video replay ?
Unlimited Replay of Training Content
Are the Video & Training Materials downloadable ?
Only PDF training materials are downloadable. MP4 Video Replays are non-downloadable
Do You Issue Certificate of Completion ?
Yes, upon completion, you can download the Certificate of Completion
Will you update the training from time to time ?
This is not a guaranteed benefit when you sign up but we will try our best., You will receive UpToDate Training Content whenever the trainer feels necessary to do a follow up webinar.
Sign Up Now ... See you "inside" the paid area soon !
We highly encourage you to pay via credit card for instant access to the content.
However, you have the option to pay via online bank in method, Click Here for Instruction to Pay Through Bank

---
Hi, My name is EvannaMiss8. I am a One Leg Kick , Happy go Lucky Organiser & Producer of Webinars & Online Training for Professionals, Directors & Management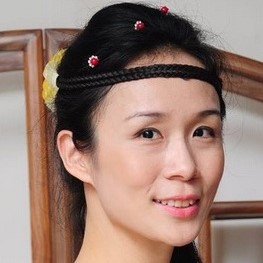 If you are still blur blur about this webinar, no worries ya ... you may contact me directly using any of the below methods
Email: [email protected]
Whatsapp: +6012 203 8046
Facebook: https://www.facebook.com/learnabeeOfficial/
Bee Happy, Learn Online ...
Important Note: If you want to download the Certificate of Completion at the end of this course, please make sure the FULL NAME you key in is 100% Accurate ya ...