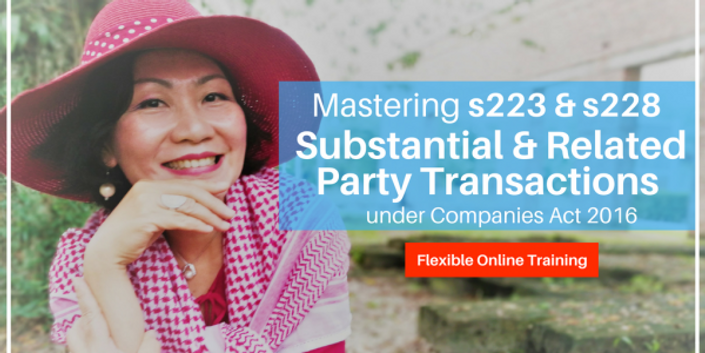 (English) Mastering s223 & s228: Substantial & Related Party Transactions under CA2016 by Mah Li Chen (MAICSA Chartered Secretary)
Everything you need to know about Mastering s223 & s228: Substantial & Related Party Transactions under CA2016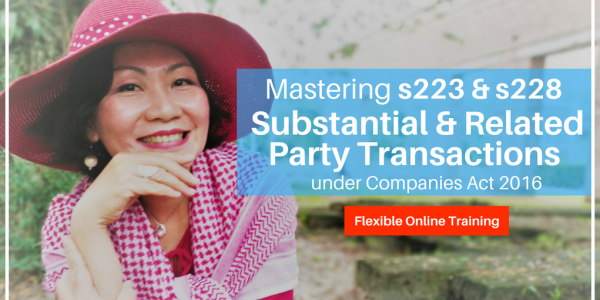 Everything you need to know about Mastering s223 & s228: Substantial & Related Party Transactions under CA2016

Course Objectives

It is essential to determine what are substantial transactions by directors of company's undertaking or property that require company's approval. Related-party transactions remain an area that continues to baffle many due to its complexities and intricacies. To identify related parties under complicated and multi-layered structures and relationships of related parties may not be so obvious at times. We are required to discover from the facts and circumstances to make the connections and to ensure that appropriate and relevant disclosure is made timely and adequately to the market as well as to obtain the requisite approval as required under the laws, regulations and rules. Once a related party transaction is determined, then we need to look at whether any exemption applies. Therefore, we need to understand the rationale and purpose of these exemptions. This course is aimed at understanding, identifying and determining such substantial transactions by directors and related party transactions and also in enhancing our knowledge on the obligations of directors, major shareholders and persons connected to directors and major shareholders and company secretaries of public listed companies in dealing with them.
Course Outlines
Understanding the terminology of the provisions of the Companies Act 2016 and the latest Listing Requirements on substantial transactions, related parties and related party transactions
Using pictorial approach to explain and identify related party transactions
Disclosure obligations on related party transactions under the Companies Act 2016 and the latest Listing Requirements of Bursa Malaysia
Exemptions available under the latest Listing Requirements of Bursa Malaysia in respect of related party transactions and the whys for such exemptions
Determine the applicable percentage ratios to use in working out the thresholds for requisite disclosure and approval under the laws
Enforcement actions on related party transactions and samples of disclosures.
Who Should Attend
CEOs, COOs and CFOs, Company Directors, Managing Directors,
Executive Directors, Company Secretaries, Corporate Advisers,
Accountants, lawyers, academicians and those who wish to have a better understanding on substantial as well as related party transactions.
Your Instructor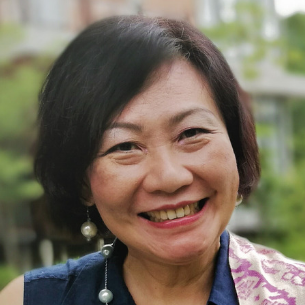 Chartered Secretary

Member of Technical and Professional Practice Committee

Practising Certificate Committee of MAICSA

Mah Li Chen graduated with the ICSA qualification on 27 September 1995. She has since completed her LLB with Honours in 2003 from the University of London.
She is a Chartered Secretary by profession with more than 20 years of working experience in mainstream corporate secretarial work. She has been speaking on various topics relating to the Proposed Companies Bill 2015, Companies Act 2016, corporate secretarial practice, corporate governance and listing requirements for MAICSA, Bursa Malaysia Berhad, Federation of Public Listed Companies.
Malaysia Institute of Accountants ("MIA") and several other professional bodies as well as in-house seminars for a number of companies.
Course Curriculum
(Part 1 &2) Mastering s223 & s228: Substantial & Related Party Transactions under CA2016
Available in days
days after you enroll
(Part 3) Mastering s223 & s228: Substantial & Related Party Transactions under CA2016
Available in days
days after you enroll
Frequently Asked Questions
Language Available ?
English
Payment
One Time Off, No Annual Fee, No Renewal Fee. Payment Method: Credit Card or Online Bank In.
Venue & Access
100% Online Learning 24/7 Anytime, Anywhere
Am I Allowed to Post Questions Directly to Trainer During and After Live Webinar ?
Yes, you can. Happy leh ?! ...
How many times can I view the video replay ?
Unlimited times. Wonderful leh ?! ...
Are the Video & Training Materials Downloadable ?
Yes, downloadable. Good leh ?! ...
Do You Issue Certificate of Completion?
Yes, upon completion of the online training, you are able to download the Certificate of Completion. Syiok leh ?! ....
Sign Up Now ... See you "inside" the paid area soon !
We highly encourage you to pay via credit card for instant access to the content.
However, you have the option to pay via online bank in method, Click Here for Instruction to Pay Through Bank
---
Hi, My name is EvannaMiss8. I am a One Leg Kick , Happy go Lucky Organiser & Producer of Webinars & Online Training for Professionals, Directors & Management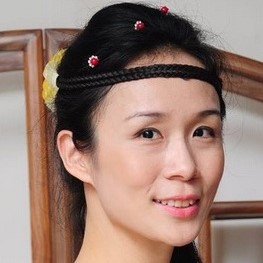 If you are still blur blur about this webinar, no worries ya ... you may contact me directly using any of the below methods
Email: [email protected]
Whatsapp: +6012 203 8046
Facebook: https://www.facebook.com/learnabeeOfficial/
Bee Happy, Learn Online ...
Important Note: If you want to download the Certificate of Completion at the end of this course, please make sure the FULL NAME you key in is 100% Accurate ya ...